Latest News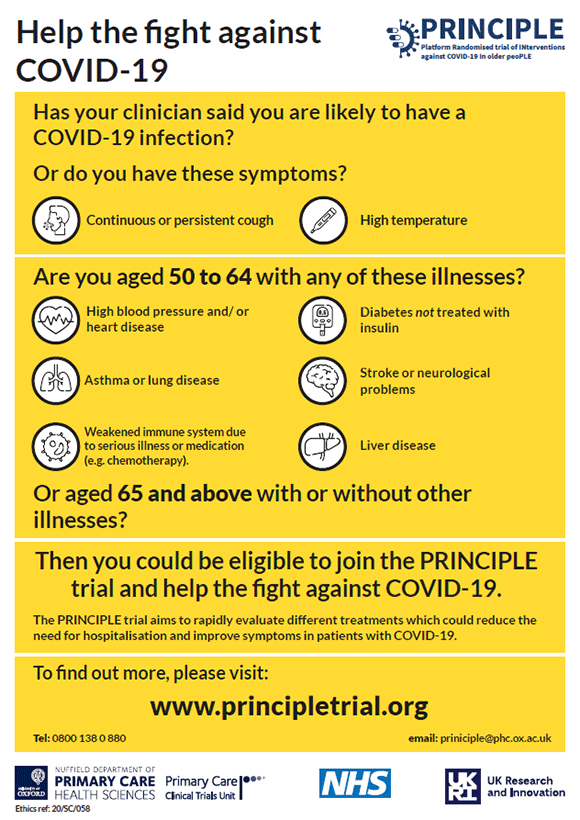 Victoria Surgery is supporting vital COVID 19 research. As part of this, we are helping to carry out a national priority research study called PRINCIPLE.
If you have symptoms of COVID 19, are aged 65 or over, OR are aged 50-64 and have an existing health condition, you may be eligible to join this important study.
If you'd like to discuss taking part in PRINCIPLE, please contact us.
Please see www.phctrials.ox.ac.uk/principle-trial for full details of this study.
If you'd like to know more about COVID 19 research and how you can contribute, please visit the Be Part of Research site, www.bepartofresearch.nihr.ac.uk, which is run by the National Institute for Health Research.
Coronavirus
1. The the public are being advised to stay at home (self-isolate) without any testing for COVID-19, regardless of travel history or contact with confirmed cases, if they have:
a. A new continuous cough OR
b. High temperature (of 37.8 degrees centigrade or higher)
Individuals should stay at home (self-isolate) for 7 days from the onset of symptoms following the current advice. If someone has serious symptoms they cannot manage at home they should use NHS 111 online (people should only call NHS111 if they cannot get online).
After 7 days of self-isolation, people who feel better and no longer have a high temperature can return to their normal routine. If they have not had any signs of improvement after 7 days and have not already sought medical advice, they should use NHS111 online (people should only call NHS111 if they cannot get online) before they leave their home or let visitors in.
Cough may persist for several weeks in some people, despite the coronavirus infection having cleared. A persistent cough alone does not mean someone must continue to stay at home for more than 7 days.
Up to date information can be found on http://www.nhs.uk/coronavirus.  If people have serious symptoms that they cannot manage at home they should use NHS111 online.
Further information is available on https://www.nhs.uk/conditions
Everyone is being reminded to follow Public Health England guidance
Always carry tissues with you and use them to catch your cough or sneeze. Then bin the tissue, and wash your hands, or use a sanitiser gel.
Wash your hands often with soap and water, especially after using public transport. Use a sanitiser gel if soap and water are not available.
Avoid touching your eyes, nose and mouth with unwashed hands.
Avoid close contact with people who are unwell.
Further information is available on nhs.uk.
Change to Telephone Operating System
We have recently upgraded the telephone lines at the surgery.  This has also enabled us to make it easier for our patients to contact the correct department or person.  We have added options to our telephone menu to help you do this.
On connecting to the surgery you will hear the following options available:
Option 1 – Appointments and Home Visits
Option 2 – Test Results (Results will be available between 10-5pm daily)
Options 3 – Prescription Queries (This service is available between 2-6pm daily)* Please note to order your prescriptions you must still use 01284 723976.
Option 4 – Secretaries (Queries regarding referrals, medical notes or insurance reports).
These changes will take place from Friday 15th February . We hope this new way of working will provide a more streamlined service for our patients
Jo Shaw – Practice Manager
Surgery Newsletter's
To read the Autumn/Winter Newsletter 2019 please click here
To read the Summer Newsletter 2019 please click here click here
To read the Winter Newsletter 2018 please click here.
CQC Report
To see our Care Quality Commission report click here.
Advice and Guidance
Suffolk Family Carers
The Suffolk Family Carers are available to provide advice and guidance in the surgery waiting room on the 4th Wednesday of every month from 9:00-11:00am.