Appointment Booking During the Pandemic
During the current pandemic patients can access their GP via a telephone triage appointment.  The GP's may then offer the patient a face to face appointment where triage has indicated this is required.  GP's may suggest a consultation via video.  Routine and Same Day telephone appointments can be requested by contacting the surgery on 01284 725550 and selecting option 1.
Nursing appointments can be requested via telephone or face to face depending on the medical need
Appointments at Victoria Surgery
All consultations are by appointment.   When possible please make your appointment in advance.  We are able to book up to three weeks ahead for both GP and Nurse appointments.  When booking an appointment, the Reception staff will try and arrange one to your request, but this may not be possible all the time.
GP and Nursing appointments are available each day from 0830 a.m. to 6.00 pm. The Reception staff will ask you, on the doctors or nurse's behalf, for the reason for your visit; this is so that the correct allocation of time for the appointment can be made.
There are several ways of booking an appointment with the Surgery.
These are given below:
Via Telephone
Telephone the Surgery on 01284 725550, between 8.00am and 6.30pm Monday to Friday.  On telephoning the surgery, you will be able to book the next available appointment for a particular doctor.  Outside of these hours you will be directed to the out of hours service or if urgent to contact 111.
If you require an urgent appointment for the day then please call at 8.00am.  Depending on the nature of the emergency you may be asked to call again later that day. The appointment may be with any doctor, nurse practitioner or nurse depending on clinical need.  If you require a doctor that day and no appointments are available, you can request the duty doctor to contact you and discuss your condition. They can make a decision with you when they have understood your symptoms on the best way to manage your condition. This may be an appointment in the surgery, collection of a prescription or any other alternative that is appropriate.
Genuine medical emergencies will always be fitted in with a Doctor, not necessarily your own.  We reserve a very small amount of emergency appointments which are bookable on the day from 8 a.m. when the surgery opens.
Telephone consultations
If you wish to speak to a doctor on the phone he/she is usually available after surgery. Please leave a number where the doctor can call you back. It is necessary that you let the receptionists know the reason for your call so the most appropriate allocation can be made. 
Internet
The surgery uses a website called SystmOnline. This will allow you to book an appointment order repeat medication and see aspects of your medical records held by the surgery. The website address is systmonline.tpp-uk.com. You will need to register before using it and in order to do this you need an access code and password. These are available from Reception.
In person
All appointments can be made at Reception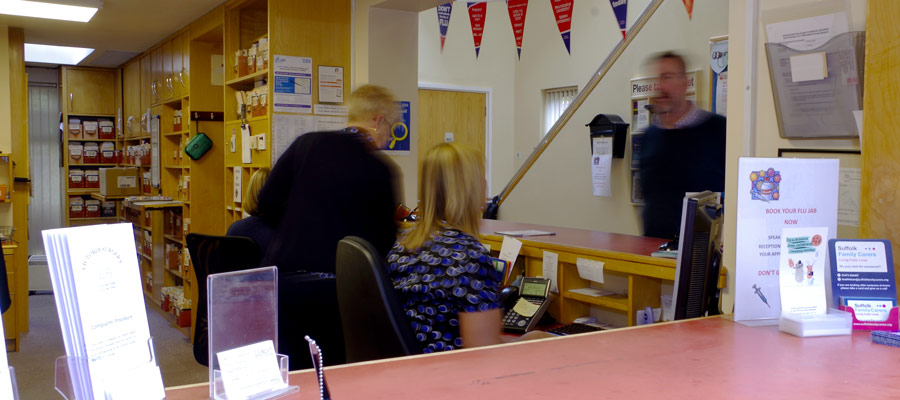 Appointments are available to book at various stages; with some available as soon as the clinics are available, normally three weeks  in advance, others are available 24 hours in advance.
Booking an Appointment as a Home Visit
Please phone before 10.30 a.m. if you require a home visit. The Reception staff will ask you on the doctor's behalf, the reason for the visit. This will allow the doctor to judge the urgency of your request.